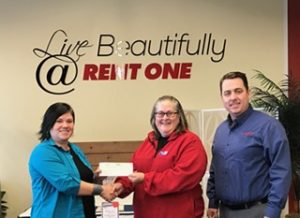 Rent One continues their charitable donations covering more ground making behalf of their Charity of Choice Great Expectations campaign. Region 2 presented the Charity of Choice check to The United Way of Southern Illinois. Regional Manager Brandi Robison and Marion Manager Michael Tripp presented the check to Toni with United Way of Southern Illinois. Region 8 also presented a$1,268 check to the United Way of Erie County. Rent One Store 102 Manager Chris Paul, Rent One Store 101 Manager Tony Battaglia, Region 8 Manager Jim Guthrie presented the check to Joelyn Bush from the United Way.
Stay tuned for Rent One's next stop!
 Click here to read more about Rent One's 2016 Great Expectations Charity of Choice campaign.